It's Monday, you know what that means!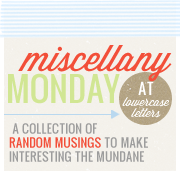 1. Last night in a heroic effort to save my daughter from falling backwards, I bent my nail backwards. Like it came off of my finger and had to be put back on. *shiver* It seemed to reattach itself, so that's good, but WOW that hurt!!
2. Yesterday Bella and I decided to visit Daddy at work and bring him some treats to help his day go by a little faster. While hanging out in the car we caught a glimpse of what's to come.
Scary.
3. Head over to the fabulous Carissa's blog
(just click the button at the top of the post)
and enter her giveaway - it's a good one *ahem*.
4. Everyone who makes a purchase from
and mentions her giveaway will get
10%
off
everything
you order
and
you'll also get
a
gift card
!!
It's a swell deal ;)
5. I think some play time at the park is in order for today - it's gorgeous out there!